(Note all the exclamation marks? Yeah, I'm really that excited! =D)

Around this time last year I paid a similar visit to the west with a couple of friends, and although I did have money on me, I couldn't really find anything too interesting. What a sad thing, perhaps I wasn't in the most inpiring mood? But this time I know I won't fail in finding clothes and accessories that please me for a couple of obvious reasons. One, I always find something in inspiring company and my sister and mother are such company. Secondly, my "style", so to speak, has evolved from a year ago... and on top of that, I've been succesfully browsing TopShop, American Apparel & Åhléns, seeing stuff I want to purchase. =) So far my shopping list consist of:

- a pair (or two) of shoes (heels & boots most probabyl)
- a long and warm scarf (perhaps a circle scarf, too)
- leather gloves
- a purse or a clutch (perhaps both too?)
- and a faux fur hat!! <33333

Yeah no I don't have enough clothes, shoes, bags, scarves.... anything!! I hope I'll find all that and some more. I also hope that I won't run out of money! =D Luckily we have our mom, perhaps she'll lend me some if that is to happen and I am still lacking something. =D No no, I don't have an addiction..... Or do I? I don't really know, lately I've been craving to get something new all the time. Alas, I'm always short of money. (Let's not forget that clubbing isn't exactly cheap, either.) Well, as long as I'm happy and feel good it's all right?

Anyhows, today I am (or at least I should be) heading towards Vaasa with a friend. I'm gonna see my borther and my friend is supposedly going to see some of her friends. I'll finally get to see the night life in Vaasa! Something I've been wanting to discover ever since my brother moved there three years ago.... =D Hopefully we'll all end up in the same club, and hopefully we'll have fun, too! And not be too drunk! =D
In the beginning of November I am going to Stockholm for a day with my sister and mother, and I am planning on finding a lot of nice things for my clos... ugh, I mean myself! =D It should be much fun, I cannot wait!
Current Music:

Kings of Leon


After the interview I went to buy cheap L'Oréal straightening balm and a bottle of Fructis bamboo hairspray. I got them both for experimental reasons... See normally I use Aussie hairspray (or Proffs from Seppälä) and no straightening balms although I straighten my hair on a daily basis. Well I can already give my opinion on the hairspray since I tried it right away: not going to buy it again! =D It smells like all the Fructis products and it does not give enough hold. After classes I spent some more money and got myself a long grey sweater of some kind (I seriously don't know my clothes in English haha!)

We have our first exam tomorrow on marketing and enterpreneurship. I haven't been too active on the reading, just because I haven't been bothered. It shouldn't be too difficult, though, if the teacher are to be believed. =D And well, it can always be re-taken. I'm definitely not going to stress about school before my last year...

Anyway, I should be going to sleep soon. I'm tired and not so well.
The job interview this morning was more or less like I had imagined it would be. And I did more or less as bad as I thought I would. =D But oh well, at least I tried! =) I know I'm not good at marketing myself, so I suppose I won't be getting the job. (I wasn't that bad but I don't think I stood out from any other applicants, either.) Well, we will know about the rejection next week...
Current Music:

Antti Tuisku


This is the best thing ever, there's just one problem: I've never been to an actual job inteview! =O So I'm pretty sure I'll screw up.... But of course I will try my best to make a good impression and eventually make myself seem as a good candidate. They are supposedly hiring three, so I might have a slight chance of getting the job. Slight, but one nonetheless. =D I am so nervous!

Do wish me luck - I need it!


I've been browsing any possible job openings since I moved here but it's been pretty quiet. About a month ago there were a few openings at Gina Tricot but since I was more or less still settling in I missed the application period. Anyhow, last week there was an announce on our school's website about an opening at Tapiola. I went to inquire about it on the spot with a friend of mine but I never got around to send an application. (My friend did, though, but she's yet to hear about them...) Well, yesterday I noticed an opening at Pentik and decided to half seriously scribble an application out of boredom. I waited until today to send it, which too I did only half seriously. Right, so after just a couple of hours my phone goes off and I am invited to an interview tomorrow morning. OMG! =D I have only sent a couple of job applications in my life, but never have I gotten so much as a "no thanks" response. So yeah, I was quite taken by surprise.
Yeah I would very much like to get myself a car. And not just any car but a Ford Mustang.<3
I went to see this baby with my dad last summer, and it was love at first sight! Too bad I couldn't take her home. =( (It was only about 17,000 $ if I remember correctly. Equal ones in Finland cost like 35,000 e and up if I am not mistaken.)
It was perrrrrrrrfect!
This is a 2006 model (with very low mileage.)
I love it how the made the retro model come back.
And the 2010 model looks even finer.... <3333
Can you tell I love Mustangs? =D I want to own one some day!
If anyone has an additional 40,000+ euros they don't need.... I'm more than willing to take it! ;)
Current Music:

WMP on random
occassional financial issues I've been having during the last six or seven weeks, I have nothing to complain about, really. School's been nice and definitely not difficult at all. We only have three days of school a week, and the subjects are pretty easy because we're just getting started. Actually, I'm a little frustrated by the easiness of it all for I find it rather hard to concentrate on some nonesense, so to speak. Well, hopefully it gets better with time. (Although next term won't bring more classes nor more school days...) Now would definitely be a favorable time to have a job because I hardly have any school, but given the fucking economic situation it's quite hard to find (a decent) one. I'm trying to follow the openings but there hardly ever are any that would suite my expertice. =( Anyway, as always, I'm trying to watch what I eat because I would really love to lose some weight and to get toned up, too. I just want to be skinnier 'cause it looks nicer, that's all. =( This time, however, I'm not aiming at it without any work. I'm taking sixty minute walks with a friend and depending on school assignements we try to go on these walks more than once a week. We are also going to exercice classes once a week. I know it's not enough, but it's a start nonetheless. =) What's good is I haven't had any fucking gloomy days yet and I definitely hope I'm not going to have any, either. Getting angsty and depressed might just ruin everything! Autumn's a hard time, I hate the grey rainy days, especially if I have nothing to do and I am just sitting home by myself. But, I'm going to have to try to keep my spiritis up, and to keep myself busy, too. That should be a way to avoid getting down. =)

Other than the
Before my mid-July trip to Miami I came to look for an apartment here in Pori, and filled out an application for one out of the two I ever saw. Eventually, I got it. =) (Which is no wonder since this had been unoccupied since May - I have no idea why, though.) It's not the apartment I had dreamed about, but it'll do for now. I'm mostly done with the decorating, but painting the walls was a bigger task than I had prepared for. There are at least five layers of different wallpapers on the walls I'm painting, and ripping them off takes hours! So far (in a six weeks time, that is) I have managed to complete one wall. =D I am pretty lazy, and because it really takes time and effort, I'm not too interested in doing the other wall all by myself. I guess it will have to wait a good while. Well, I'm either waiting until my dad comes to Finland by the end of the year, or if the ugliness of it really starts to bother me, I'll just have to do it by myself. It took quite long for me to unpack and get rid of all the unwanted stuff, but this place is finally starting to look nice. I still need a bookshelf, though. (At the moment I have two boxes of books unpacked, but perhaps by the end of the year I'll have them unpacked. =D) I might post pics some day so people can judge. =D Although I loved the space I had in Tampere, a small apartment feels a little more confortable (when living alone) and sure looks it, too. =) Even though I might not live in this very apartment for more than the required year, I want to make this place as good as I can so I'll feel good hanging out in here. The best thing about this place is the location, definitely. I'm right in the center of the city and everything is near me. Especially the clubs! <3


Anyway, I am now living in Pori, which is probably the last city I would have imagined living in. =DDD It just shows you never know where life takes you... Although I did have a little say in this fate, because after all it was me who picked this city as a third option. I'm sort of glad I didn't get to stay in Tampere though because Pori isn't half as bad as people make believe; I am definitely positively suprised! It's been a good month and a week.

Before school started I was a little anxious because I was scared I wouldn't make any friends, and not knowing anyone from here beforehand made that fear even worse. But, as with the previous school, I was determined to try to talk to people and not to keep to myself. (This might sound stupid but I've been too fucking shy in the past and it has complicated things...) I kept my promise to myself and talked to people and so I pretty much made a couple of friends in no time. =) There's a girl in our class with whom I hang out mostly with (in and out of school) but I do talk to others and I should have it as my mission to get to know other girls better, too. I also made two girl friends quite randomly during my first weekend here... now that's a story! We mostly hang out during weekends when we go to clubs, luckily they like to drink too. (That's kind of why we met in first place.) I'm looking forwards to meeting more and more people so I'll never have to be too bored. Haha.. I haven't been that bored though, while we're at it. And it's been great. I hate boredom and being alone.

In what comes to the chance of doing things differently, well, I've been trying to be more sociable, more confortable around people, more outgoing... just anything that I haven't really been but have wanted to. I have also tried to be less judgemental, very much so. But sometimes I can't help badmouthing if I am in company that does so. It's not that bad as long as no one hates me for being mean... All the drama in my previous school, it was fucking annoying! And I was going to say it cannot happen here because people are more mature, but actually, they're all pretty young! All my classmates are around 18-20... Luckily enough I feel as young so it's no problem. =DDD
I have to say, I just LOVE new starts! No one knows who you are, so you have the perfect opportunity to try to do things better. And to be better. Some people might say that moving to another place doesn't solve a thing, but it's not quite the truth. I remember when I was still living at my mom's and I was rather frequently talking about moving away from Turku (because of personal issues) and my brother would always say that moving wouldn't change a thing. But I knew it would, and it did. I changed a lot, or should I say, grew up a little, during those two years I spent in Tampere. I learned to be a little more sociable, a little more confident, and a little more responsible (at least hopefully!).


So as I've become more and more frustrated with sitting in front of the computer screen, having no other sites to amuse me than Facebook and some (random) fashion blogs, I figured I should get started with a journal again. Which now shall be this. After all now that I have moved to Pori and started afresh there is a lot, or at least a little, stuff going on in my life that should be fun to write about . =D

I wish to get as excited with LJ as I once was.<3 =)
It's been eleven weeks since my last update, says the front page? Eleven weeks! =O I never managed to get started with the new journal, so I stopped writing altogether. But after keeping a journal for a good five years or so (or should I say multiple journals for I've had a couple of them in the past!), it felt damn weird not to write anymore. And especially since I've always loved it so much!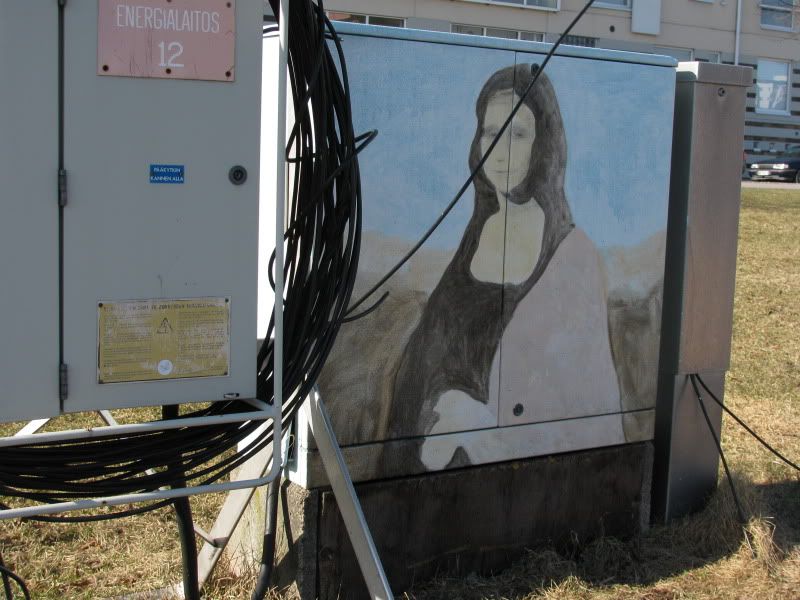 The Academy of Arts being nearby, all "ugly" is "beautified"...
(
To the harbour!
Collapse
)
Turku, part I .


Anyway, I hope it gets better.

I'm planning on doing a lot of jogging and exercising once I have nothing better to do, but let's see about that. I have also planned on reading a lot, not to mention expressing myself a little more through art. Which basically is, painting, sketching and photographing. It all sounds really good but I never really do much more than angst, watch tv and browse the net. ;( I am really looking forwards to seeing what will happen when I finally have nothing but time.

Oh, did I ever mention I am going to Riga with my sister in June? That should be nice, if only someone lent me a little spare money to spend on the trip. :D

Sometimes I wonder why I have to be such a drama queen... because, well, sometimes it might go a little over the top. And although I am having fun, no one else is. Actually, it annoys the fuck out of everyone. (Daaaamn, I just want a little attention.)

And a confession, I should have paid my rent yesterday but since I haven't got even half of it on my bank account, I went shopping today. No, I didn't spend that much! I only got a white hand bag for 55 euros and two cheap books. :) (I will eventually pay the rent, I'm just waiting for dad to send me some money. :D) However, from now on, I can only buy myself food.
I hate mood swings! But that's my life and I just have to adapt. Well, not really. It's pretty fucking exhausting to go from one extreme to the other and I guess I'd better get some help. I don't want to see a therapist, though. No matter how good it might do me... I just cannot talk to strangers about personal shit I have tried to forget, I don't really even talk to the people that are "close" to me. Ugh, whatever. Antidepressants will do just fine...
Current Music:

Julma Henri & Syrjäytyneet - 204107